Hey everyone! It's Brenda again from
You Might Be a First Grader...
For those of us on break I hope it's going great. I love seeing all the beach, cookout, and water park pics on Instagram. I was a very late comer to Instagram but I've recently become hooked. If you'd like to follow me just search for "You Might Be a First Grader.." (one word though)
Well it's mid(ish)-June and that means it's my turn to post over here on Teaching Blog Roundup. I have loved seeing the other posts and getting some tips and freebies. (If it's free....it's for me) I'm not sure but I somehow always get to post near a holiday. Last month it was Mother's Day and now I find it Father's Day time.
I know by seeing all the tweets, Instagram photos, and blog posts that even though many of us are on break that none of us have turned off our teacher switches. At my school we only have two teachers for each section. It's kinda nice and homey and we really get to know the families. Well, the other first grade teacher and I made it a point last year to write more. Write. Write. Write. And we did. I was really proud of how it went.
We make our own journals. I'm here to share a few of our template pages!
click here to get it for free on TpT
Writing is an area where I continually try to improve my teaching technique. I think it's one of the most difficult things when you're a beginning teacher. (Especially in the primary grades--imo)
Last school year I found this book: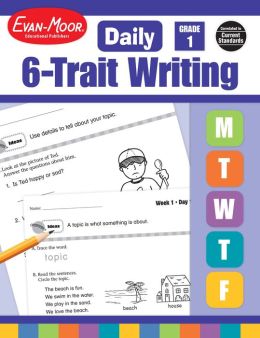 It was easy for me to follow and I found myself referencing things outside of writing time. I'd point out voice or mood in stories and relate it to our mini-lesson with this book. There are kid pages and teacher explanation pages if you need help teaching the concept/explaining the page. Many reading series now incorporate 6-Traits, too.
(click the book to check it out on Amazon.com)
How do you do writing in your classroom? Any tips or tricks?